Description
Weeder blades with rotating tools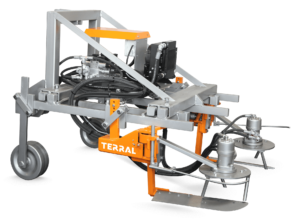 Function: TERRAL weeder blades with rotating tools are used for the mechanical maintenance and weeding of the soil at the foot of the vine. . There are several ways to maintain this area: ploughing, stirring the soil, lifting the soil, mowing, etc. Maintaining this area so that it remains clear and free of weeds increases vine yield, since the weeds will not have to compete for resources from the soil. The TERRAL grape hoe weeder helps to quickly eradicate weeds growing under the vines, without having to resort to phytopharmaceutical products.
Use: The weeder is used throughout the year, to keep the soil at the foot of the vine clear of new shoots and weeds. However, it will be more in demand from March to July. It can be used on all types of soils, whether they are clay, limestone, sandy, or stony. However, using it on very hard soils is not recommended, as this could damage the machine and the vines.
In the vast majority of cases, grape hoe weeders are used in pairs, i.e. two half-rows are worked on at the same time.
How it works: The trunk avoidance system, which consists of a sensor and a double-acting jack, allows the blade and the rotary tool (located just above it) to retract when they come into contact with the trunk and return to their working position once they have moved past it. Combined with the tractor's forward movement, this system allows you to work on the soil at the foot of the vine without ever touching the vine itself. The blade pulls up the weeds from the soil at the foot of the vine and the rotary tool throws them towards the interrow, to prevent them from growing back. The machine's multiple settings allow it to adapt to all types of vineyard.
Hitch: The TERRAL blade weeder and rotary tools can be used with a wide range of chassis or ploughing frames on the market. It is usually mounted on a TERRAL frame (provided for this purpose), which can be coupled to the front or rear of the tractor. The grape hoe weeder can be used with other tools such as a TERRAL trimmer, a TERRAL shredder, or a soil-working tool.
Feed rate: between 2 and 5 km/h (depending on the type of ground and how clean the soil at the foot of the vine is)
TECHNICAL SPECIFICATIONS:
Customer testimonials, feedback
I was looking for a powerful and robust grape hoe weeder to use on clay and sandy soils in all seasons, and the TERRAL Grape Hoe Weeder was exactly what I needed. Its dual-action jack allows me to work on the soil at the foot of the vine, even in difficult conditions. Moreover, the long frame allows me change tools before using the grape hoe weeder, or to cultivate the interrows on my 45-hectare vineyard.
You might also be interested in…