Description
Front frame grape hoe weeder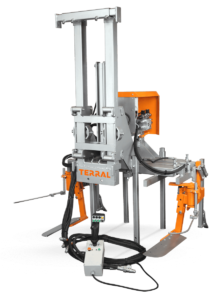 Function: TERRAL front frame weeders are frames, i.e. tool holders, which are specially designed to hold TERRAL weeders and soil-working tools. They are used for the maintenance and mechanical weeding of the soil at the foot of the vine. There are several ways to maintain this area: ploughing, stirring the soil, lifting the soil, mowing, etc. Maintaining this area so that it remains clear and free of weeds increases vine yield, since the weeds will not have to compete for resources from the soil. The TERRAL front frame helps to quickly eradicate weeds growing under the vines, without having to resort to phytopharmaceutical products.
Use: The frame works in conjunction with the grape hoe weeder, and is therefore used throughout the year to keep the soil at the foot of the vine clear. However, it will be more in demand from March to July. It can be used on all types of soils, whether they are clay, limestone, sandy, or stony. However, using it on very hard soils is not recommended, as this could damage the machine and the vines.
The front frame allows 2 half-rows to be cultivated at the same time.
How it works: The frame is a chassis; it does not allow any specific action to be carried out when it is coupled to the tractor alone. In order to carry out a job, it must be equipped with tools and/or a grape hoe weeder. However, it has a 2-position lifting/lowering jack (with a fixed position and a floating position), and a pivot.
Hitch: The TERRAL front frame weeder can only be attached to the front of the tractor. It can be combined with the use of a TERRAL shredder or a soil working tool.
Feed rate: Feed rate depends on the tool used
TECHNICAL SPECIFICATIONS:
You might also be interested in…